Overround or book percentage, gives a measure of the competitiveness of the prices on offer. It is calculated by adding up the individual percentage chance of every selection based on the price that is being offered.
Overround rule is added by default to each strategy and you should never remove it. It ensures that bets are placed by strategy only when offer of prices on market is good. The closer overround to 100% the better price you will get for your bet.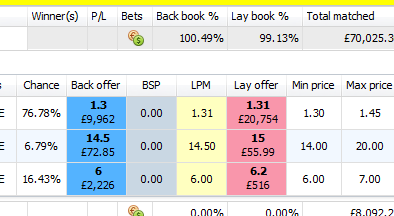 For PLACE markets overround settings are multiplied by number of winners for that PLACE market and then checked. This allows you set single set of overrounds and apply them to all markets e.g. 110% overround set for Win market will be the same as (110% x 3) = 330% overround set for Place market that pays for 3 places.
You should never use overround alone to check if market offer is good! It should be used in combination with Min/Max price rule and Back/Lay Ratio rule.